A faked shot of a human arm being cooked over an open fire.
Left, as seen in GOW THE KILLER (1933)
and CANNIBAL ISLAND (1956).
Right, as seen in PEARLS AND SAVAGES (1921).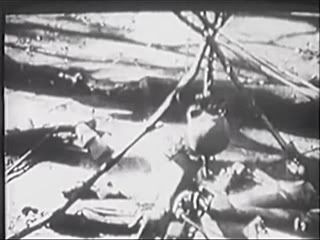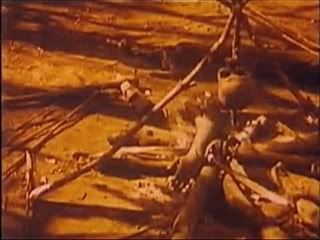 GOW THE KILLER (1933) and its slightly re-edited reissue CANNIBAL ISLAND (1956) have become ubiquitous examples of 'goona goona' roadshow attractions, contained in various 50 or 100 dvd box sets and previously seen in multiple incarnations on vhs. And as becomes blatantly obvious within seconds, both movies are made up of nothing but silent footage shot in the twenties -
and indeed briefly released as GOW THE HEAD HUNTER (1928)
- with new (offensive) narration added.
For the most part, nothing at all happens that is even remotely shocking in either movie, no matter how worked up the narrator gets! However, there is one
bona fide
surprising image during the cannibal sequence in both films: a (patently staged) shot of a human arm roasting in a fire. The shot is completely incongruous with the mundane footage surrounding it, and is to some extent THE selling point of the entire movie. To quote
Something Weird
's blurb about CANNIBAL ISLAND: "Money shot: a human arm is seen roasting in an open fire." Eric Schaefer, in
Bold! Daring! Shocking! True!
, likewise cites the shot as a standout in his write-up of GOW THE KILLER, singling it out as the "evidently faked shot of an arm roasting in an open fire."
However, as I discovered this weekend, the 'roasting arm' shot
wasn't new, even in 1928
. Because it turns up in the cannibal sequence from a yet earlier movie, PEARLS AND SAVAGES (1921); indeed, the shot survives in a nitrate German release print from 1923, so certainly wasn't added later. It looks
considerably
clearer in the 1921 movie (well, you can tell the arm is an arm, at least!), although as part of a sequence of barely-related real and staged shots connected by overwrought intertitles, it's possible that it wasn't new even at this stage, and might yet have been created for a yet earlier cannibal-fest.
Here are the cannibal sequences from PEARLS AND SAVAGES (1921) and GOW THE KILLER (1933), showing how the 'arm shot' is deployed in each film:
Captain Edward A. Salisbury cleaned up with GOW THE KILLER, traveling around the country with a lone print of the movie for eight years (!) from 1933 to 1941. The advertising stressed that he was the 'only white man who ever attended a Cannibal Feast and lived to survive it', but since the footage was staged and had already been used in a 1921 movie,... well, Cap'n Salisbury was clearly prone to ballyhoo exaggeration.
After WWII, Real Pictures reissued the movie as GOW THE KILLER in 1948, and then as CANNIBAL ISLAND in 1956. These are the two incarnations usually encountered on vhs and dvd.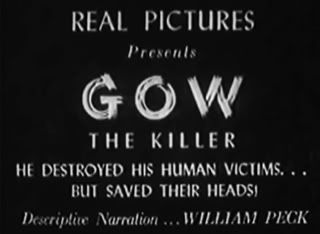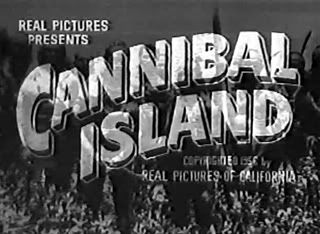 To make the movie sound less ancient, Real Pictures changed the earlier tagline "This is not a Hollywood production - every inch filmed in the savage belt!" to now read: "Not a Hollywood production. This picture was used by United States Government for valuable secret war information!" However, as now becomes clear, the movie's exploitation-worthy 'money shot' was in fact almost of World War One vintage!!