We had a great time at Monsterpalooza IV, and so did everyone we talked to. From the debut of 'Beast Wishes' to the great panels on 'Fright Night,' William Castle and especially the panel on 'An American Werewolf in London,' there was smart and engaging entertainment everyday.
The costumes grew wilder as the weekend progressed, almost a Halloween in April.
What makes Monsterpalooza so rewarding is the high-end skills of everyone involved. It truly is, as the tagline says, 'The Art of Monsters.'
Here's a whole bunch of photos, but they only scratch the service.
We hope others post here as well, and you can find other photos in the
other Monsterpalooza thread on pages 4, 5 and 6
All photos below are by Eileen Colton, CHFB News.
We hope this gives a taste of the weekend. So here's what we saw at...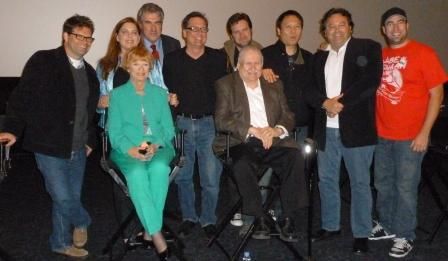 Beast Wishes:
While not technically part of Monsterpalooza, the premiere
of the documentary on Bob and Kathy Burns kicked things off in Hollywood
on Thursday night. Several hundred fans gave the film a rousing reception.
Above, left to right, are Dana Gould, producer/director Trish Geiger, Kathy Burns,
John Goodwin, producer/director Frank Dietz, Chris Drake,
Bob Burns, Steve Wang, Patrick McClung and Frank Ippolito.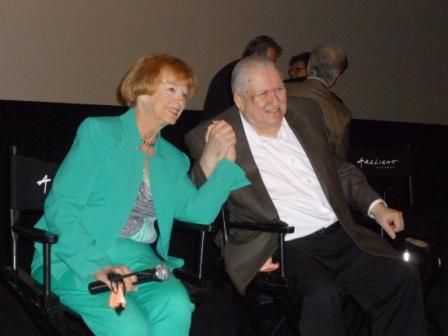 Power couple
: Bob and Kathy could not have looked happier. They regaled
crowds at the premiere and again at Monsterpalooza with tales of Halloween
shows, their courtship and their message for young people to never give up on
their creative impulses.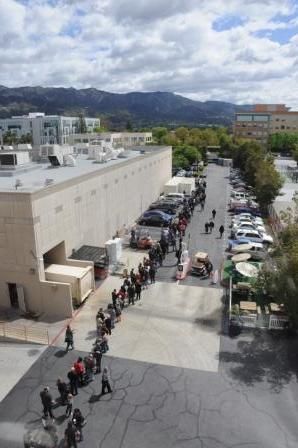 Getting in
: The lines on Saturday stretched all the way
to the back of the building. Monsterpalooza is fast
becoming a major event. Friday night and Sunday
were far more accessible.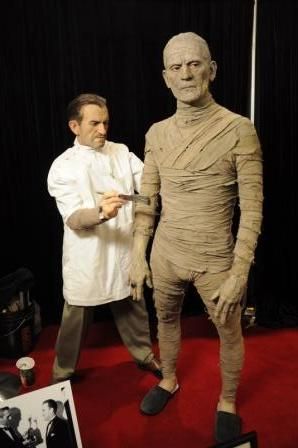 The Pierce installation:
The highlight of the show was
an exhibit by Mike Hill showing a full-size Jack Pierce working on
Boris Karloff as Im Ho Tep. The realism was
astounding.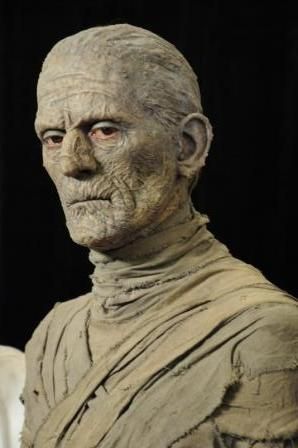 Karloff the Uncanny:
From head to piercing eyes,
the wrappings and the stance, Karloff lives again.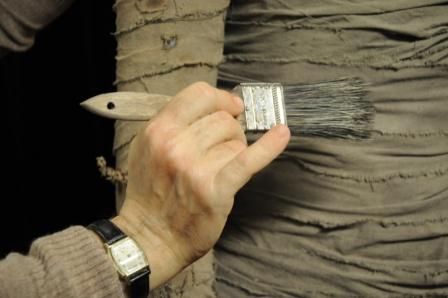 Hands of who?
This closeup shows the Jack Pierce hand applying paint to
the mummy wrappings. Rick Baker, who stopped by on Sunday, revealed
that it was his hand Hill used as a model for Pierce.
Young Baker:
Right next to the Mummy exhibit was this second work by
Mike Hill, showing David Naughton being made up for 'An American Werewolf
in London' by a young Rick Baker. This was even more unnerving than the
Pierce/Mummy piece.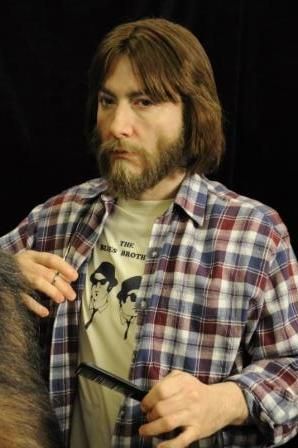 Rick again
: we love the 'Blues Brothers' T-shirt.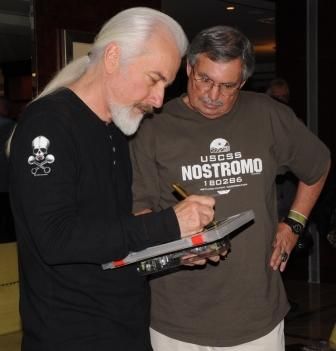 The real Rick
: Baker signs for a fan. Mike Hill surprised
Rick with the young Baker exhibit. Baker told his daughter
'that's what your dad looked like before you were even born.'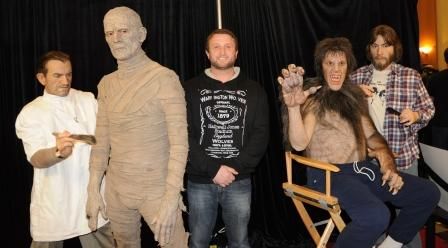 Proud creator
: Mike Hill poses between the two hits of the show.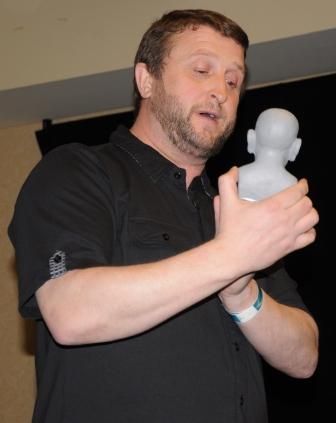 Rondo winner
: It's no wonder that sculptor Mike Hill was the first recipient of the Rondo Award's Henry Alvarez Award
for Creative Design. The award is named for Alvarez, a monster maker who died last year, and we were proud to
present it at a panel Hill was leading honoring Jack Pierce.
Master artist:
Here's an example of the work done by
the late Henry Alvarez. He worked on Predator,
outdoor exhibits and even sculpted the Rod Taylor
figure that sits in the Time Machine in Bob Burns'
basement.
Sharp-dressed men
: Part of the fun of Monsterpalooza is meeting up with
friends new and old. Here's screenwriter and novelist David J. Schow with
actor, writer, artist and Monsterpalooza Magazine publisher Mark Redfield.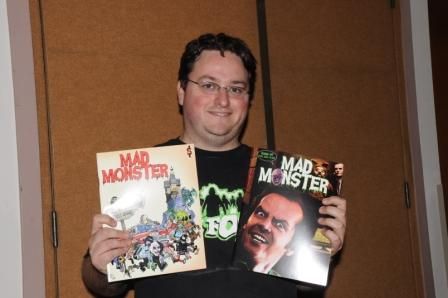 Mad Monster #2 debuts
: Dan Plegel, who did the cover for No. 1, holds
up the world's most interactive monster magazine. Mad Monster has
something for everyone and is well worth a look.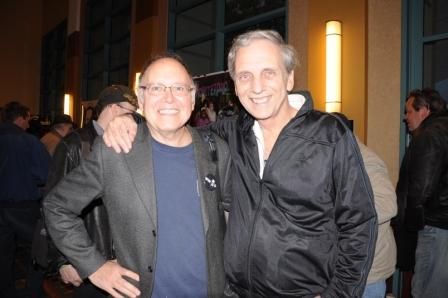 Late night with Ted
: Here I am with the always audacious Ted Newsom,
one of the CHFB's mainstays and one of classic horror's original archaelogists.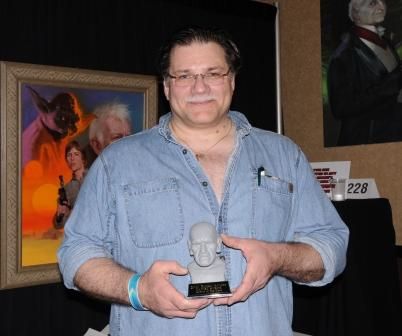 Daniel Horne wins again
:. Not every Rondo winner can make it to
Louisville in May for the annual Rondo Ceremony at WonderFest, so
we handed out several other awards to West Coast winners. Here
four-time Rondo winner holds one of his artist awards.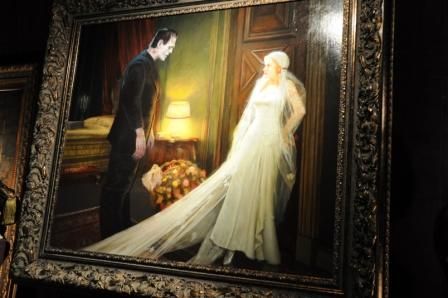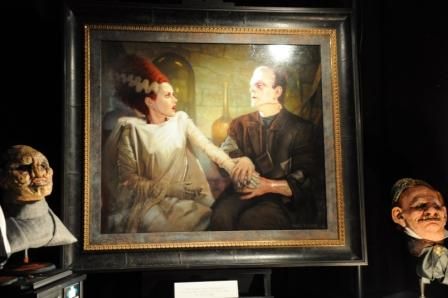 Frankenstein art:
These two giant paintings by Daniel Horne were huge crowd pleasers. Dan says he plays music
from BRIDE and other films while he paints for inspiration. These photos do not do the paintings justice.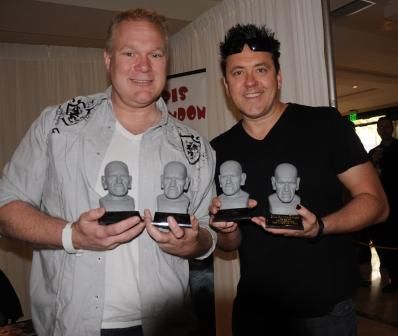 Chilled!
Director Tim Sullivan (at left), accepts the four Rondos for
CHILLERAMA, voted Best Independent Film. There were four
segments, each with a different director. At right is Brian McCulley, one of the
producers.
Re-Animated:
Stuart Gordon and other cast members of the
upcoming Re-Animator: The Musical, meet with fans.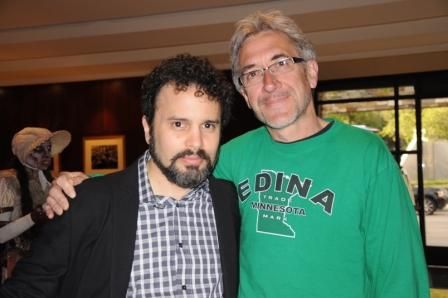 Universal Monster Army
: The UMA had a great vintage toy and modeling
store exhibit. Here's Ray Castile and Terry Ingram during a break.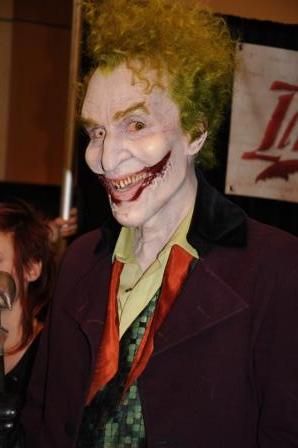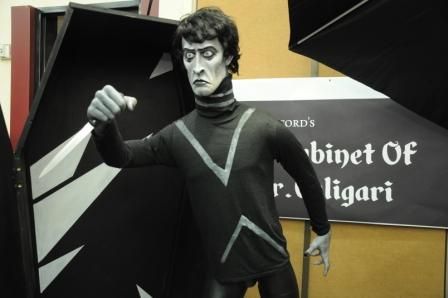 The art of monsters
: The Joker is real; the Caligari figure is not.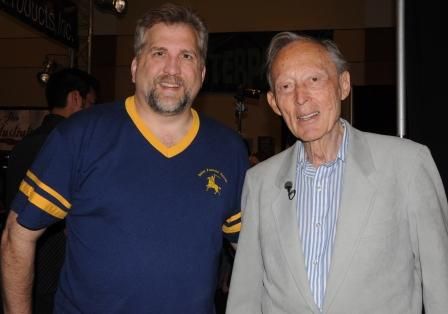 Makeup superstar
: Applause and flashing lightbulbs greeted 89-year-old
Dick Smith when the makeup king suddenly appeared on Friday and Sunday.
Here he poses with actor and uber monster kid Dan Roebuck.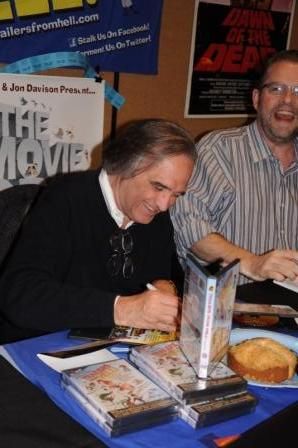 Dante's inferno
: Director Joe Dante signs copies
of the Trailers from Hell DVD.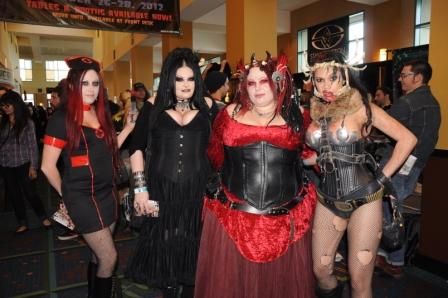 The passing scene
: These are some of the more modest outfits seen at
Monsterpalooza. Costumes grew more outre as the weekend progressed.
This is not your father's monster convention.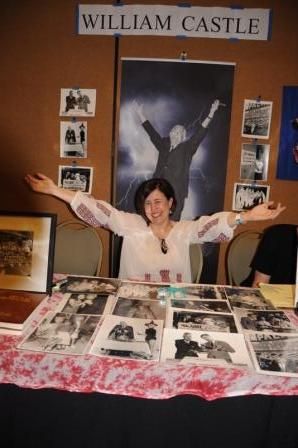 William Castle's Daughter
: Here Terry Castle relaxes
during autograph sessions. Terry was delightful in
telling tales of her dad, who she says was frustrated
he never received more mainstream recognition.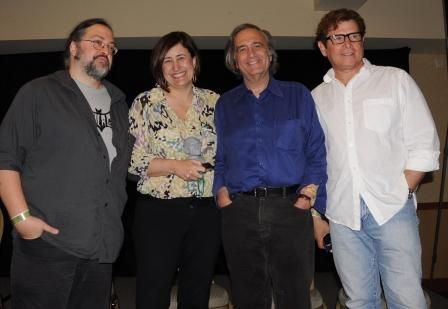 Castle panel
: Here are Howard Berger, Terry Castle, Joe Dante and Steve Bickel,
after the William Castle panel on Sunday.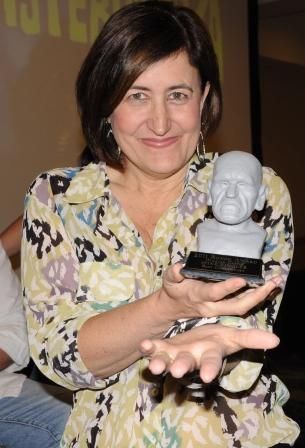 A Rondo for dad:
One of the high points of the
weekend was being able to give Terry Castle the
Rondo her late father won for a commentary on Spine
Tingler, the documentary on his life. It was an
emotional moment for everyone.
The fin is the thing:
Makeup artists created professional quality guises for
convention goers.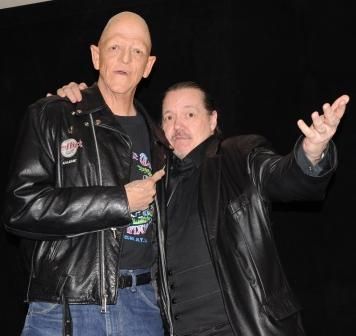 They love L.A.!
Michael Berryman and David Schow mug for
the camera and fans.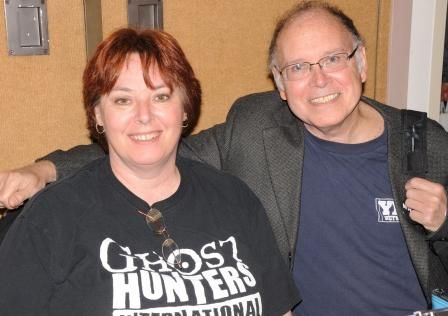 It's a Cult thing
: Here's Jessie Lilley, editor of Mondo Cult, and past editor
of everything from Scarlet Street to Famous Monsters. She also edited
the terrific Monsterpalooza convention program.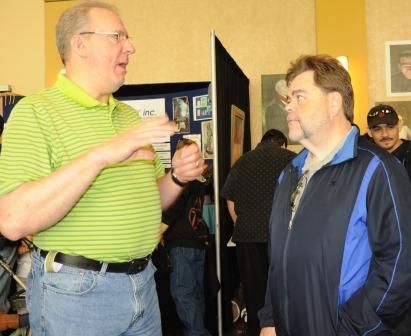 Monster kids indeed:
Jim Clatterbaugh, editor of Monsters from the
Vault, talks with WonderFest organizer Donnie Waddell.
Better late than never
: We caught up with horror poster
collector Ron Borst to present him with his Monster Kid
Hall of Fame Award from last year. With him is his
understanding wife, Margaret. Great folks!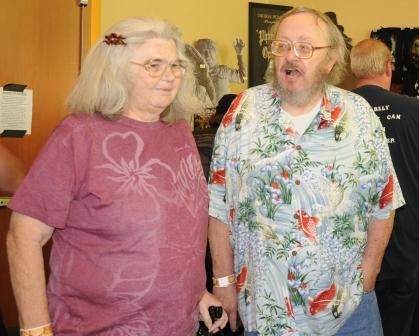 Warrens make the scene:
It was great to see Bill and Beverly Warren make
an appearance on Sunday. Beverly especially has had some health problems
but that couldn't keep them away from the fun.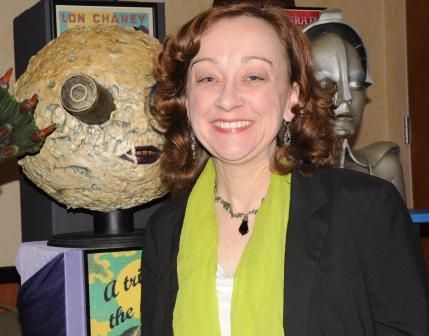 Chicago's finest
: Here's CHFB and UMA regular Elizabeth Haney, a
Svengoolie fan and one of the nicest people in fandom.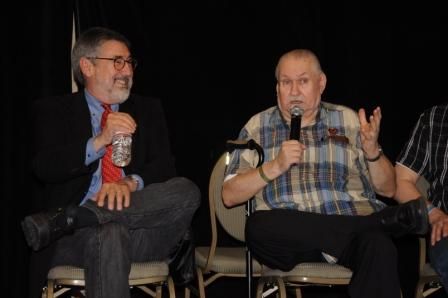 Landis drops in:
Director John Landis made an unexpected appearance
at the Bob and Kathy Burns panel on Sunday. He praised the couple
and their love of moviemaking.
Beast of a job
: Producers Frank Dietz and Trish Geiger were
pleased with the positive reception for 'Beast Wishes.' They are
taking pre-orders now for the DVD's May release.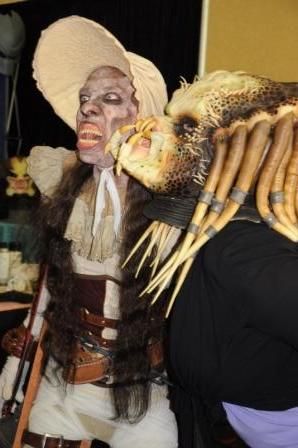 Walkers
: A typical Monsterpalooza couple.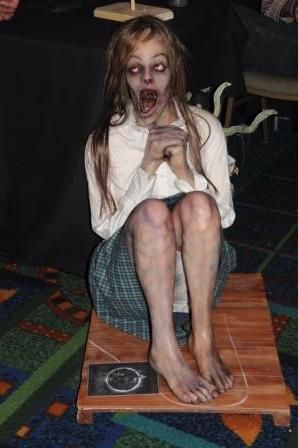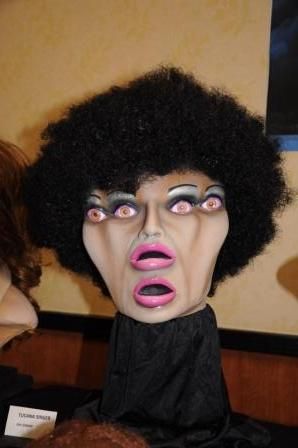 What th--?
Two examples of disturbing Monsterpalooza art.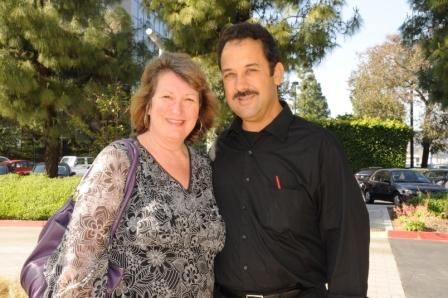 Monsterpalooza's Master of Ceremonies
: Helping organizer
Eliot Brodsky keep the M-trains running was Perry Shields,
who made sure all the panel discussions started and ended on
time. Here he is with his wife, Cindy.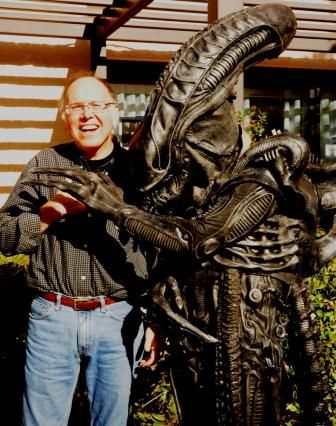 Acid queen?
Luckily I escaped the clutches.
And finally....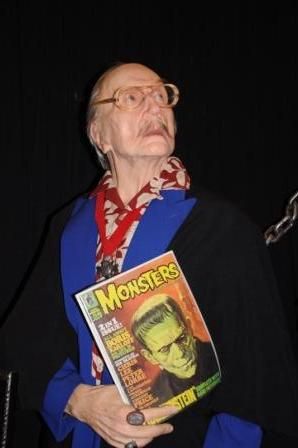 ...
why we were here in the first place.
See you next year!!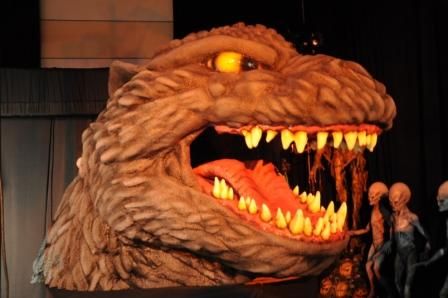 Thanks for taking a look at our weekend,
david and eileen