FAMOUS MONSTERS has announced the return of THE GRAVEYARD EXAMINER, debuting with a 25-page all-digital issue in what looks to be a weekly series available every Tuesday.
Here's a link to the Sept. 26-Sept. 30 issue:
The Graveyard Examiner
.
There are no credits that I could find, nor bylines, but the issue is full of short bits of news, reviews, comic news, lists, links and horror updates, all done in a modern magazine style.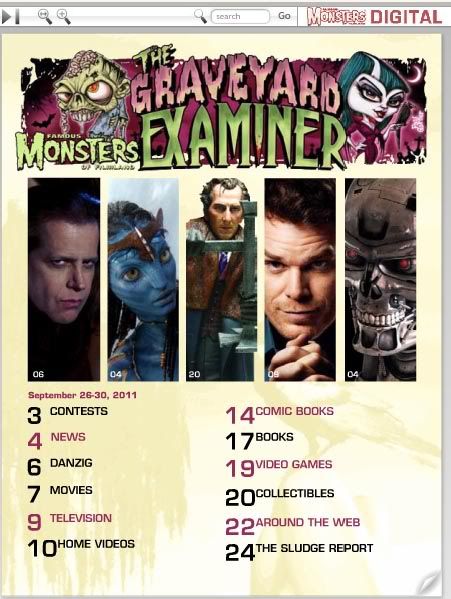 The digital format used is not as elegant as others we've seen (such as an iPad app), but allows for easy turning of pages, the ability to share the issue with others, to enlarge pages and to read the issue offline if so desired.
Like the FM website itself, there's a lot of energy at TGE. And even if little is very "classic," it certainly falls far short of the online grue found at harsher modern enterprises.
More signs that the new Famous Monsters universe continues to do well, and is expanding.
david