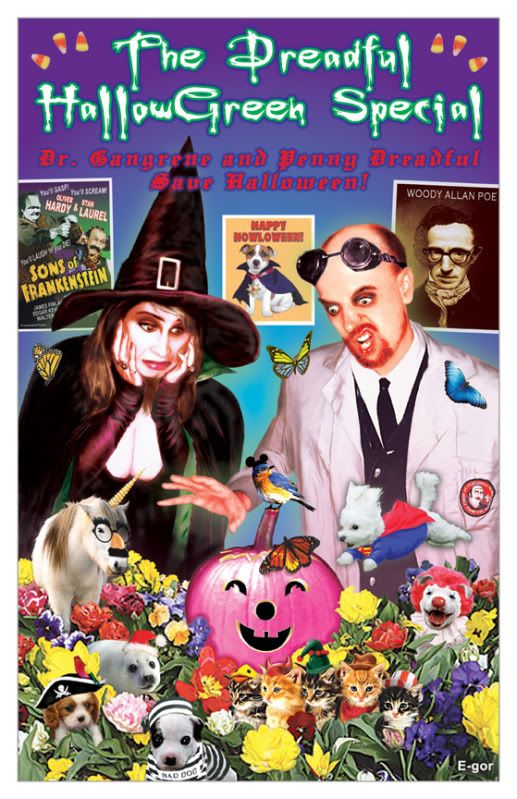 For the first time ever, it's DR. GANGRENE and PENNY DREADFUL in a brand new Halloween Special!
"The Dreadful HallowGreen Special" is a half-hour Horror Host crossover wherein renowned Nashville horror host, Dr. Gangrene, and New England's Penny Dreadful must join forces to save Halloween. The Special also features Count Gore De Vol as The Narrator. Science and sorcery combine in this All Hallows Eve spooky special!
Airing in many locations soon!
For more info on Dr. Gangrene's Creature Feature check out: http://www.drgangrene.com/
For more info on Penny Dreadful's Shilling Shockers check out: http://www.shillingshockers.com
Poster art by the talented and fiendish GEORGE "E-GOR" CHASTAIN! - http://myweb.wvnet.edu/e-gor/tvhorrorhosts/
For a
LIST OF STATIONS
airing the special click here:
http://pennydreadful13.livejournal.com/9505.html

Penny Dreadful and Dr. Gangrene Scare In New Halloween TV Special
For Immediate Release:Horror Hosts Collaborate For Hex-Cellent Halloween TV Special (10.15.10)
Hallowed horror hosts Penny Dreadful and Dr. Gangrene are teaming up to save Halloween in an all new half hour television special entitled "The Dreadful HallowGreen Special" premiering in October on stations around the country.
From his secret hidden laboratory on the mysterious Shackle Island Dr. Gangrene issued the following quote, "Penny Dreadful is a tremendous talent and her show is a really first rate program. Despite the fact she dabbles in such an unscientific area of study, it was my pleasure to collaborate with Penny on this Halloween special, combining science and magic to save the greatest holiday of all, Halloween! Now that's what I call a mad monster party!"
The duo finds themselves readying for the upcoming Halloween season when suddenly all things go awry. It's up to the physician of fright, Dr. Gangrene, and the eerie enchantress, Penny Dreadful, to set things right and save Halloween for everyone in a brand new television special.
While sipping hemlock brew from a smoking goblet Penny Dreadful related, "I was very hex-cited to join forces with that quack..er.. I mean esteemed mad scientist and horror host, Dr. Gangrene! Not only am I a fan of the Doctor's fine program, but we also happen to see eye to bloodshot eye on most subjects - especially the subject of Halloween. I hope this TV Special becomes staple All Hallows Eve viewing for monster movie fans both living and dead."
Penny Dreadful's Shilling Shockers, now in its 8th season, is based in New England and airs in over 150 cities. Penny Dreadful is portrayed by Danielle Gelehrter who, in 2007, was awarded the prize for Favorite Horror Host by the Rondo Hatton Classic Horror Awards.
Dr. Gangrene's Creature Feature airs on its home station WNAB CW58 in Nashville TN. Dr. Gangrene is portrayed by Larry Underwood. The Good Doctor has been shocking the Scare-waves since 1999. His programs have won countless praise and have been nominated for two Emmy Awards for Public Service.

The Dreadful HallowGreen Special premieres Halloween weekend 2010 on finer television stations. Check local listings for show times. For more information on Dr Gangrene or Penny Dreadful please visit www.drgangrene.com and www.shillingshockers.com