I've mentioned this in a few earlier threads, but production is finally underway! I've always wanted to direct the be-all, end-all definitive film version of Leroux's novel as a big-budget Hollywood film someday; Since it is a dream project, I thought it would be fun to do a cheap dress-rehearsal version for the time-being.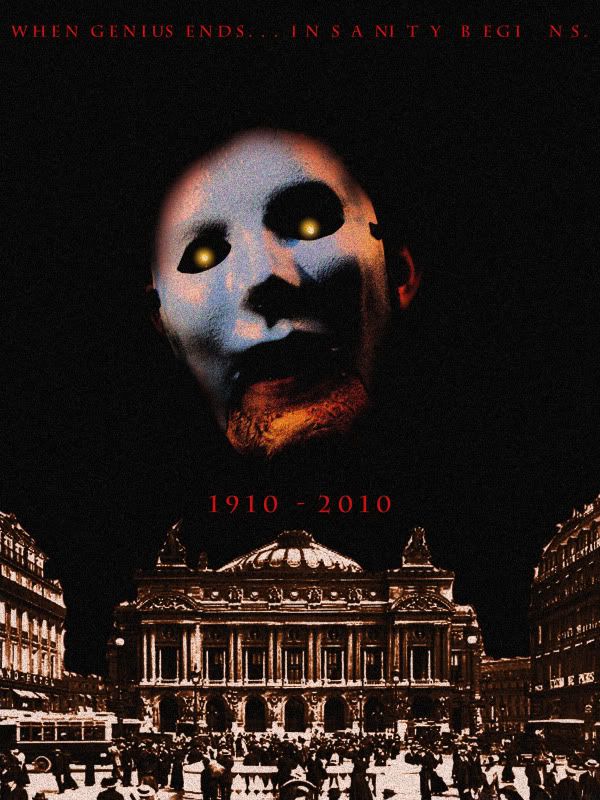 "
He had a heart that could have held the empire of the world; and, in the end, he had to content himself with a cellar...
" -Gaston Leroux
Obsession, passion, tragedy and triumph have made French author Gaston Leroux's
The Phantom of the Opera
an gothic masterpiece for the past century. The story of a horribly disfigured mad genius who dwells beneath the Paris Opera House, has captured the imagination of filmmakers, writers and musicians for years, yet few have taken advatage of Leroux's rich text and atmosphere.
Aspiring filmmaker Ryan Bijan Jeri hopes to capture a little of what made the story great by directing and producing
ERIK
, a no-budget short film, recounting the Opera Ghost's reign of terror from his point of view. This is no bottom of the barrel YouTube project. The crew and talent who began filming in June, 2010, aim to make the best film they can (on
very
limited funds) and plan to run the finished project in the festival circuit. Featuring a talented cast and crew including Spencer Wallace as Cinematographer and Asisstant Director, Music by Patrick Martin and Autumn Hyun as Christine Daae, the object of Erik's obsession. The production is basically fueled on love of the original novel, passion for the genre, and consists of a few starving artists and students wanting to make a short, sweet, gothic horror flick that's worth watching.
Hopefully fans of the original novel, Universal and Hammer will enjoy it, and hardcore fans of the Joel Schumacher film starring Gerard Butler will be sorely disappointed. This is Erik as Gaston Leroux envisioned him, and how I interpreted him. He's a tragic genius/killer who is born horribly disfigured (
not
a fit GQ model with a mild rash that Christine falls for in the end.) In many ways, despite the buget,
ERIK
is alot closer to what Leroux described than many other adaptations, yet it is a unique enough take to be enjoyed on it's own.
Please checkout our Facebook page for pics and updates:
http://www.facebook.com/ErikMovie