I found a bunch of old 60s/70s ads from my local paper in my archives and i thought people may be amused/interested at the ads i found for the original release of "Night of the Living Dead". It goes to show what word of mouth could do for a film in the good old days of exploitation films.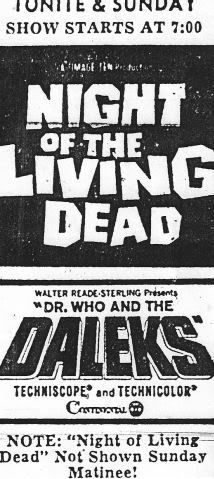 Nothing too out of the ordinary at first. Watertown Daily Times movie ad page for October 1968. NOTLD gets equal billing with its unsuspecting co feature "Dr Who and the Daleks". Also amusing is the note at the bottom "NOTLD Not Shown on Sunday Matinee!". Apparently someone had watched it first!

Suddenly,NOTLD gets a huge one sheet image ad and takes over the entire ad campaign from Dr Who,who has now been bumped to a mere footnote. The Olympic theare still enforcing its "No matinees" rule.

NOTLD then gets a huge poster image ad thats even larger than the ad before it.Dr.Who seems to have bid a hasty retreat in the tardis to escape the flesheating onslaught.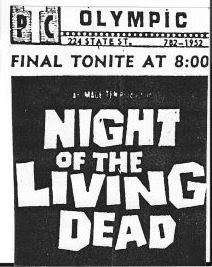 After a successful run,NOTLD gets its final night ad all to itself,Dr Who now a complete memory.
Compare this to the way they saturate advertise those huge annoying newspaper ads for the first week and then drop off the face of the earth.I miss the days when films actually were allowed to develop legs and make a profit on their own.