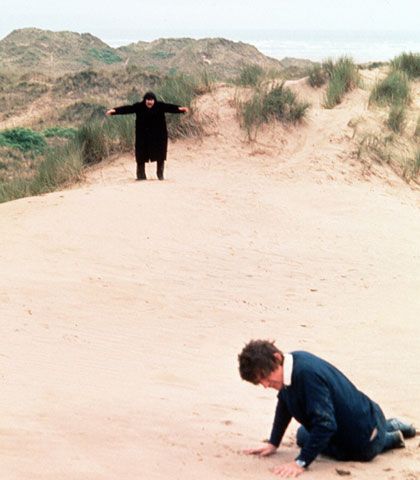 THE SHOUT (1978, d. Jerzy Skowlimowski)

At a psychiatric hospital's patient/staff cricket match, Robert Graves (Tim Curry) finds himself in a scoring hut with Crossley (Alan Bates), a patient "whose soul has been shattered into four pieces." While they watch the game, Crossley tells Graves the tale about how, as a mysterious stranger, he intimately invaded the lives of Anthony and Rachel Fielding (John Hurt and Susannah York) in a small village on England's southwest coast. Crossley claims to have lived deep in the Australian outback for eighteen years; while there, he learned from aboriginal sorcerers how to sexually possess the soul of any woman, how to peel off his skin like a shedding snake, and how to kill with a supernaturally lethal howl. Anthony is a part-time church organist who experiments in a tiny home studio with synthesizers and

musique
concrète
tape loops, so he takes an interest in hearing Crossley's "terror shout"...



Triangulated somewhere between THE LAST WAVE, WALKABOUT, THE WICKER MAN, and KNIFE IN THE WATER, Skolimowski's THE SHOUT is a supernatural arthouse horror that operates at multiple levels depending upon how deeply one wants to think about it. It's moody, obscure, and genuinely mysterious --- because of certain things that happen and certain flashes of imagery and dreams, it is very unclear how much of Crossley's story is to be believed at face value. But it is creepy and effective, probably because Crossley the Pinteresque psycho shaman is so very sinister.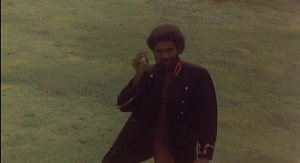 I watched it last night as part of a late-night Skowlimowski double-feature on TCM's "Underground" with DEEP END, so I am sure that the 4AM ambiance had a lot to do with its effect on me. But I see that THE SHOUT is available through Criterion. I really need to see this one again.