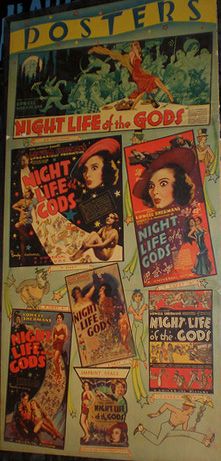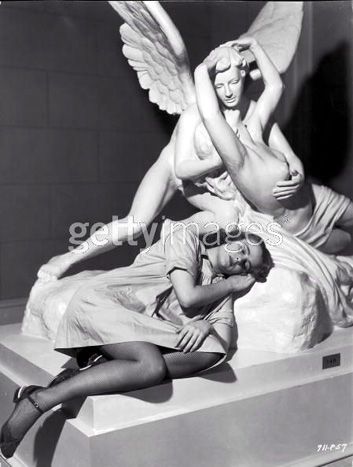 NIGHT LIFE OF THE GODS (1935, d. Lowell Sherman)
My project to re-watch, re-learn, and re-appreciate Universal horror films over the last nine months originally excluded NIGHT LIFE OF THE GODS. Despite having read Brunas, Brunas & Weaver on the movie, my memory had conflated it with the British fantasy A NIGHT OF MAGIC (1944), and that was a movie I have no interest in ever seeing again (a recent personal-message exchange with a patient CHFB member enlightened me to the err of my ways). As it turns out, I had never before seen NIGHT LIFE OF THE GODS, a fantasy with very light science-fiction touches that tries way too hard to be delightfully quirky. However, despite the lack of horror moments (the only thing remotely "horror" about this is a night scene in a cornfield where the drunken inventor encounters a leprechaun [?] shining the shoes of a scarecrow), there might be just enough "WTF?" moments in this picture to keep the attention of most undiscerning fans of outré cinema.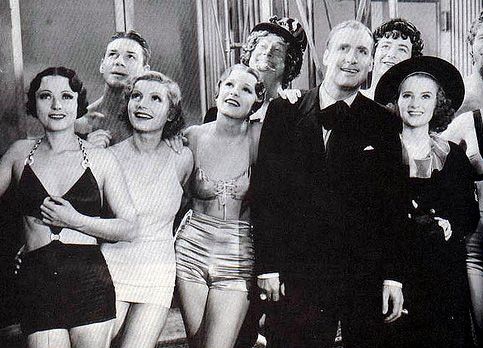 Hunter Hawk, an upper middle-class inventor-libertine (played by Alan Mowbray), creates a ring that fires a beam of light that turns people into statues. (He can also animate statues, but I'm not sure if he uses a different ring for that.) After petrifying his obnoxious family of hangers-on (except for his flirty cousin Daphne "Daffy" Lambert [Peggy Shannon]), Hawk goes on a drunken bender and hooks up with Megaera (Florine McKinney), the 900 year-old daughter of a leprechaun; when the cops try to toss them in the clink for disturbing the peace, assault, and creating a public nuisance, the couple flees to New York City with Hawk's butler, Daffy, and her boyfriend. While visiting a museum, Hawk and Megaera reanimate eight statues of Greco-Roman gods and goddess and then they all go out on the town, trashing their rooms at the Waldorf like the Rolling Stones.
It's all supposed to be oh-so-zany (there's even a prefatory text crawl from the filmmakers warning the audience to brace itself for all the madcap tomfoolery that follows, which is always a dangerous sign) and a little bit naughty in ways reminiscent of gently bawdy pre-Code hijinks. I guess that there are some that would find it an amusing enough giggle, but I just found it curious. People seem to love the novel (which I've never read), so I'm going to guess that this fails as both a faithful adaptation of the book and as a stand-alone film fantasy. John Fulton's effects are quite good, actually, but in general the scenes are randomly cobbled together without much energy, flow, or coherence --- there are three different movies here: the fun-loving inventor and the family who wants his money, the leprechaun family romance, and the keg-party of the gods. Mowbray is an odd choice as a leading man (the Brunases & Weaver say that Edward Everett Horton was unavailable), and as a viewer, I couldn't get a bead on either the Daffy or Meg characters, both of whom are needed to keep the story with so many characters on track. The movie is sort of a mess that is supposed to hang together by sheer force of whimsy.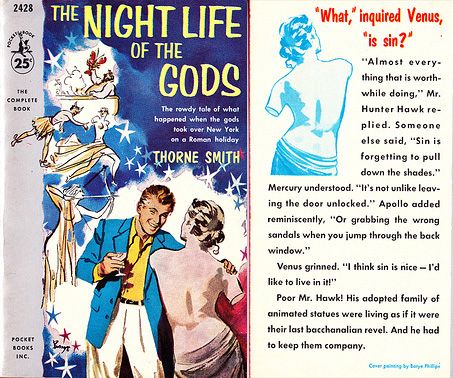 NIGHT LIFE OF THE GODS is one of those movies that I don't think anyone should make an effort to see by itself --- a Thorne Smith double-feature with TOPPER or I MARRIED A WITCH makes the most sense, but I also can see it working in other ways: in some alternate universe where I would be in charge of TCM programming, NIGHT LIFE OF THE GODS would be on every New Year's Day at around 3am, sandwiched between SONG OF THE THIN MAN and GOLD DIGGERS OF 1935. Getting one's hands on the film, however, might be tough; in the first edition of Universal Horrors, it is classified as an all-but lost picture: the only known print was given to the UCLA Film Archive two decades ago by a collector who couldn't sell it in the pages of The Big Reel. It's rumored that a video-tape copy was made before the print was archived and that this is the source for all the grey-market DVDs currently circulating.

[found on the internet: a 1949 frat party themed "Night Life of the Gods." Who knew the gods drank P.B.R.?]