THE NAVY VS. THE NIGHT MONSTERS (1966), dir. Michael A. Hoey

[a.k.a. MONSTERS OF THE NIGHT; THE NIGHT CRAWLERS]
This film is an awful mess, hamstrung by all kinds of problems. As I hunted around teh intertubes for more info about it, I found that the intrepid Tom Weaver gamely tried to get to the bottom of it all with an interview with director Michael Hoey (where we learn how Mamie "The Girl Built Like a Platinum Powerhouse" Van Doren ends up headlining this flick), but there are still a lot of ugly mishaps that go unexplained here. (Interested parties could also check out the lengthy blow-by-blow dissection of the film on the jabootu website.)
One of the thing that Hoey talks to Weaver about is the pressure to produce a feature long enough to be sold to TV for broadcast. Hoey said his final product was 78 minutes; the version I watched was 87 minutes. But given the narrative holes, I have to wonder if there wasn't an 110-minute rendition to start with somewhere that made things a little bit more coherent once upon a time (I seriously doubt it, but we can dream, can't we?).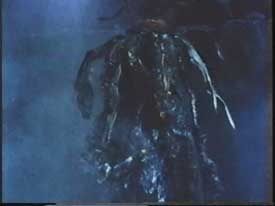 But here's where things got weird for me: as the forty or so seamen and three women on the remote Gow Island USN base (no dark sexual tension here) deal with their "March of the Evil Acid-Spewing Ents" problem, the base's regular commander (low-rent William Bendix impersonator Biff Elliot) is in a Navy admiral's office in Washington DC. While a really silly photograph of President Lyndon B Johnson looks on (the portrait, obviously made by the movie's art direction staff, looks like it was a Famous Monsters of Filmland cover), the Navy decides on a napalm strike à la the final credit sequence of APOCALYPSE NOW, so they start contacting naval task forces in the South Pacific to set it up. Because THE NAVY VS. THE NIGHT MONSTERS was supposedly a ten-day shoot with a $175,000 budget, there is stock film footage a-plenty, so the napalm bombings are stock footage shots from that war that was going on in Southeast Asia at the time.

As ugly coincidence would have it, I had just read a lengthy & horrifying article about the history of incendiary warfare centered around what happened to Phan Thị Kim Phúc, the nine year-old girl shown (in that famous Associated Press news photo) naked and screaming and running down the road after her village was napalmed in 1972. So for me, the last 20 minutes of this movie turns into a really disturbing Vietnam War exploitation film only because of these sort of subliminal hints (LBJ, aircraft carriers in the South Pacific, newsreel film of planes napalming the jungle, etc). I think it should be shown in a double-feature with THE GREEN BERETS...