We just got an advance copy of
CLAWS & SAUCERS: Science Fiction, Horror and Fantasy Film 1902-1982, A Complete Guide
by David Elroy Goldweber (Publication date: June 12, 2012; $47.95 softcover; $8.95 e-book; ordering information and more at
clawsandsaucers.com
).
This thick (680 pages), oversized softcover is billed as 'a complete guide' to 80 years of genre moviemaking. Although self-published and without any illustrations or photos beyond the cool cover, the book has a clean inviting layout. The films are in alphabetical order and are easy to scan. There are very few credits or other data that Goldweber says, rightly, can easily be found on the Internet. Goldweber says the book was compiled over a nine-year period.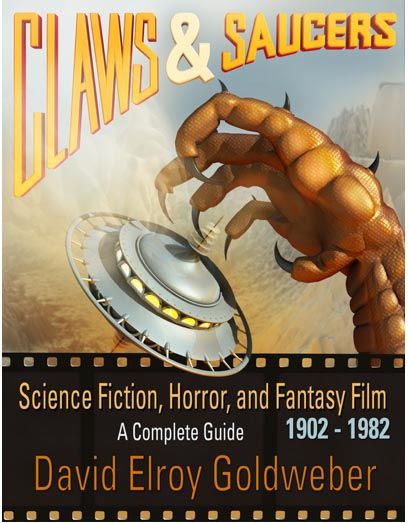 Like many guides these days, CLAWS & SAUCERS owes much to what came before, and Goldweber is generous in his acknowledgements to the OVERLOOK encyclopedias, and the works of Bill Warren, John Stanley, Psychotronic's Michael Weldon, Videoscope's Joe Kane and others.
'My intention was not simply to write a book but to build a monument: a historical and critical guide to an entire era -- pre-digital age -- of genre film,' he writes in a press release. 'This book is the real thing: the fullest, strongest, greatest guide to classic genre films ever written.'
A bold claim, and quibbles aside it is hard to argue with the enormity of the project -- the book covers more than 1,500 movies in more than 600,000 words.
Each film gets a brief summary -- without plot recaps (thank goodness) -- on the context of the film's release and what the film is supposed to be, and Goldweber often cites other reviewers before offering his own analysis. There's a fun at-a-glance section that rates each film on Action, Gore (relative to the era), Sex (similarly contextual), Quality and Camp. Plus items such as 'Famous For' and 'Notable line.'
BRIDE OF FRANKENSTEIN, for example, rates this way: Action 8, Gore 7, Sex 4, Quality 10, Camp 9, while ILSA, SHE WOLF OF THE SS rates Action 6, Gore 8, Sex 2, Quality 8, Camp 5. That's just one of endless arguments that the book will provoke.
But surrounding those ratings is smart analysis, fun revisionism and enough behind the scenes details to provide a quick watch-or-don't-watch guide to anyone unfamiliar with the films. There's a fresh eye on every film, without the world-weary tone that leadens so many compendiums.
On HOUSE OF USHER, for example, the first of eight Poe films by Corman, Goldweber writes, 'What a great start to a great series. This first picture offers many of the attributes that would be expanded and enhanced in the subsequent entries: gorgeous moody matte paintings, intense Gothic sets, eerie dreams, literate dialogue, tragic love affairs, and (in all but
Premature Burial
), one of the performances that made Vincent Price an immortal horror star. It also suffers from the same minor flaws of the subsequent films: pacing that is sometimes too slow and themes that are sometimes too obvious.'
A pretty solid take, given everything, and it did make me want to see the film again for those 'gorgeous moody matte paintings'!
There are some odd choices. Some films that for consistency's sake should have listings are merely mentioned (although sometimes at length), in other listings. So while ABBOTT & COSTELLO GO TO MARS, ABBOTT & COSTELLO MEET FRANKENSTEIN and ABBOTT & COSTELLO MEET THE KILLER, BORIS KARLOFF are given entries, the subsequent monster meetings (INVISIBLE MAN, JEKYLL & HYDE, THE MUMMY), are only mentioned as other films in the series.
Similarly, CAPTIVE WILD WOMAN gets a listing but the 1944 sequel, JUNGLE WOMAN, is only mentioned and the third film, JUNGLE CAPTIVE is not mentioned at all.
Goldweber also has an aversion to needless gore. CANNIBAL HOLOCAUST, admittedly a rough film to sit through, is not given a listing ('I don't want to dignify this film by giving it a listing of its own,' Goldweber writes), but it is discussed in some detail within the listing for Deodato's earlier film, JUNGLE HOLOCAUST). An odd choice given the reference format.
Given any project like this, certain decisions are made, and Goldweber says up front he's omitted the Tarzan films, James Bond films, some 'thriller' films, exploitation films, etc. RODAN gets a paragraph or two; ROLLERBALL almost two pages.
Still, and even with all the research by others that has come before, this is an impressive work, with little touches of personality and fun that make the book endlessly rewarding, even if you disagree with some of the findings.
The last thing the genre needed was another movie guide, but against all odds Goldweber has produced a new go-to source for late-night movie watching.
david