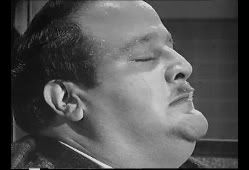 Norman Bates, move over -- Leo Kroll is in the house, and there's barely enough room for his victims. As the jumbo-sized mama's boy-cum-serial throttler, Victor Buono owns this psych-sexual cheapie, lock, stock and rubber strangulation gloves.
At once, arrogant, infantile, obnoxious, heartrending, and creepy as all hell, Buono constantly keeps you off guard and on edge. His remarkable work sets Burt Topper's grubby, low-rent thriller apart from the rest of the quick-buck PSYCHO knockoffs (this one was also inspired by the contemporary Boston Strangler killings). When he's off screen. the film goes into snooze mode, with flatly directed and indifferently acted police procedural scenes that put a choke-hold on the action. You know you're in trouble when Russ Bender as a department shrink is the most dynamic presence on screen.
Thankfully big Vic's around a lot and with flop sweat to spare, his b.o. damn near palpable as he ogles his victims in their lacy undergarments. (You may need to watch this movie with a canister of Lysol handy.) For his performance here alone, Buono deserves a hallowed place in the pantheon of screen psycho killers, sharing a wing with the distinguished likes of Laird Cregar, Gunnar Hanson and DON'T ANSWER THE PHONE's Nicholas Worth -- space permitting, that is.
Two supporting performers also deserve mention: Kewpie doll Diane Sayer (Wally's "woman of the world" in a final season ep of LEAVE IT TO BEAVER) as a sexy, insinuating fun fair vendor, and Ellen Corby, ol' Grandma Walton herself, as Leo's monster of a mother, a woman always at the ready with an encouraging word ("Face it, son, you're not good-looking... You're fat!").
Corby, by the way, is just about the only actress in the cast who doesn't strip down to garter belt and black silk stockings. I, for one, did not feel cheated.