THE MAN WHO RECLAIMED HIS HEAD (1934, d. Edward Ludwig)
Ok, to start, I have to say that this is sort of a sentimental favorite of mine. Yeah, I know, it's a bizarre movie to be sentimental about, but it's connected to a tangled web of memories and experiences for me... it was during a summer in the mid-1970s that I was visiting with my grandmother and her sister in St Petersburg, FL for a couple weeks. They went to bed at a reasonable hour every night, leaving me to sneak out of bed on tiptoe into the living room to explore the late-night TV offerings. One dark, humid Friday night I stumbled upon the legendary Dr Paul Bearer, the first horror host I think I ever saw.
Back in February, I watched the AMERICAN SCARY documentary and someone who was interviewed explained that a horror host was like a shaman who guided scared kids through the supernatural realm of these spooky movies --- the hosts helped to relieve some of the late-night intensity of it all, and they reassured kids who were up alone, huddled on the couch in a room lit only by the ghostly underworld glow of the TV screen. That description in AMERICAN SCARY immediately made me think of my first dose of Dr. Paul Bearer, particularly one night when he showed a dark, weirdly unpleasant movie whose name I could never remember about a shy, idealistic newspaper reporter who discoverers that his editor is conspiring with arms manufacturers to start a war, and that discovery eventually drives him murderously insane. The movie freaked me out, but Paul Bearer walked me through it, and, as a consequence, that very strange movie ended up hitting me just right even though I was really too young to understand just what the hell it was about. A few months ago, while reading Brunas, Brunas, and Weaver's
Universal Horrors
, I finally learned that the name of this movie was THE MAN WHO RECLAIMED HIS HEAD.
THE MAN WHO RECLAIMED HIS HEAD is not a horror movie, but it was one that came to be associated with Universal horror films over the years. Brunas, Brunas, and Weaver write that Uni's publicity hacks had a lot to do with it, that they deliberately misled audiences into thinking it was a horror movie because they couldn't think of any other way to market this bleak but very talky-talky murder melodrama. There's a horrific murder here to be sure (heavily implied, but never completely revealed), but a typical episode of "Alfred Hitchcock Presents" probably scores a lot higher on the horror-o-meter than THE MAN WHO RECLAIMED HIS HEAD. The vast majority of horror film fans who watch this one will hate it, even those with a soft spot for the classic Uni creepers, and they will feel like they've been deceived into thinking this was a horror movie when it wasn't. But still, for some reason that I can't put my finger on, there's something here that I can't seem to shake...
Claude Rains plays Paul Verin, a poor but passionate journalist in France in the 1910s who is committed to preventing the next war by revealing the powerful forces that pull to the strings that make the day's headlines. He's crazy in love with his wife Adele (Joan Bennett) and his very young daughter Linette, but begins to worry that his wife and child deserve better than his threadbare existence as an angry intellectual can provide. Then Henri Dumont (Lionell Atwill), a former editor-publisher that he doesn't trust, makes him an offer he can't refuse as a ghost-writer. For a while, it works: the money is rolling in, Paul gets to write about things that he deeply believes in, and his articles are widely read and very popular. The only problem is that they appear with Dumont's name attached, and before long, Dumont is able to launch a political career based on the public's perception that he is an ever-vigilant anti-war watchdog for the people thanks to Paul's writings. But then things take an ugly turn --- Dumont turns out to be bought and paid for by a rich cabal of international arms dealers who are looking for a way to sell the next war. (What? Media executives in the thrall of cynical corporate overlords? Say it ain't so!) Dumont is their demagogic sock-puppet; once his political career is launched and the people support him, then they order him to start changing his message from anti-war to pro-war, both in his speeches and in his newspapers.
When Hapsburg archduke Franz Ferdinand is assassinated in Sarajevo in 1914, the war profiteers kick it into gear and use Dumont to whip up pro-war patriotic spirit (see also William Randolph Hearst's fair and balanced editorial position on the Spanish-American War). Paul figures out too late that he's been double-crossed by Dumont again, that he's been used by the thugs that he most despises, and it is all represented by the treachery of Dumont, a sleazeball who Paul feels stole his intellect, destroyed his mind, and took his head (and took his wife to see a performance of
Tristan und Isolde
). As the mob in Paris starts its jingoistic slavering for war with Germany and the munitions manufacturers celebrate with champagne & cigars, Paul is drafted into the army. Adele tries to get Dumont to use his political influence to get Paul home from the front, but instead Dumont has Paul transferred to the meat-grinder of Verdun, the ground-zero symbol of the most awful slaughter and useless waste of human lives in the First World War. Eventually, though, Paul deserts when he hears the rumor that Dumont is diddling Adele back home in Paris, and he decides to face Dumont and… er… "reclaim his head," so to speak.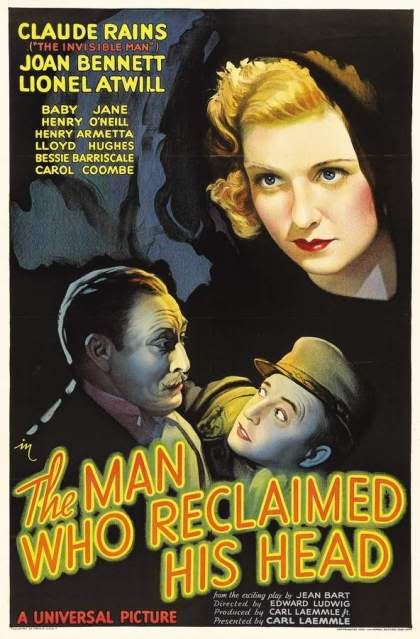 THE MAN WHO RECLAIMED HIS HEAD is very much a product of its time, when the trauma of the industrialized carnage and horrific senselessness of the War to End All Wars loomed large in the living memory --- interestingly, it was released the same year as that other Universal movie about the unresolved terrors of World War I, THE BLACK CAT. I wish I could say that this movie is a fantastic hybrid of Abel Gance's J'ACCUSE and Sam Peckinpah's BRING ME THE HEAD OF ALFREDO GARCIA, but it's not even close. There's a lot of talk, and you can see Paul headed for disaster like a protagonist in a Greek tragedy because he's such a great guy and such a committed idealist (and because we all know that presence of Lionel Atwill means trouble). When I watched this movie thirty years ago on Dr Paul Bearer's "Creature Feature," I knew nothing about World War I or war profiteering or media manipulation or Faustian bargains or cynicism. I just knew that there was something awful going on here --- that something really terrible had happened to a nice guy and so he had to do something desperate. And it scared me.
I wasn't scared when I watched it the other night, but I did find it uncomfortable and disturbing, especially since so little seems to have changed in the world when it comes to the exploitation of idealists who think that the human race is innately good by soulless self-serving corporate sociopaths. I immediately put on THE INVISIBLE MAN as soon as the movie was over so that I wouldn't think about it any more.